My blog is usually non-topical on purpose. I try not to cover the stuff that you read about in Runner's World or the the things you hear on TV. This is because, well, you've already read/heard it.
However, I did feel the need to discuss a certain Chilean miner running a prominent marathon in America's largest city.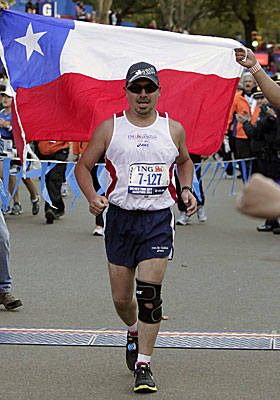 Edison Pena competed in the New York Marathon, finishing in five hours, forty-one minutes (he could only train so much underground). Pena remarked on the warmth and hospitality of the sideline supporters; this is how we know they weren't New Yorkers. These fans waved Chile flags for Pena's sake, which he said pumped him up enough to kick the end of the race.
It's easy to be cynical, to say that an obscure Chilean miner was trying to extend his fifteen minutes of fame. But reading what Pena had to say on the marathon, and on his training, I think that Pena's tapped into the running spirit. One statement in particular stood out to me: He said running was his salvation — his way of proving how much he wanted to live.
It reminded me of similar stories told by famous athletes, such as Dean Karnazes or Philippe Croizon ("J'ai decide de vivre"). And of course the less dramatic examples. I think a lot of non-famous runners can identify with Pena's sentiment. Though we never had such a literal death bearing down on us, we understand.
There's another kind of death, one that happens to you when you spend day after day the same exact way, when you're never challenged and never try. You give up on your dreams, and just kind of fade away. Running is for so many a way of staying one step ahead of mediocrity, ahead of stagnation. In other words, a way to live.
Share on Facebook